Triple Play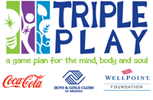 A well rounded healthy living program to promote nutrition for healthy minds, fitness for healthy bodies, and social recreation for happy souls.
Dodgers RBI – Baseball and Softball Leagues:
Sponsored by LA Dodgers Foundation & LA84
Play Dodgers RBI baseball on our Dodgers DreamField!  All players receive a beautiful two jersey Dodgers uniform, provided by the LA Dodgers, and participate in one of four age divisions. Practice and games are scheduled during the spring/summer season, from April-August. Additional league play may be offered during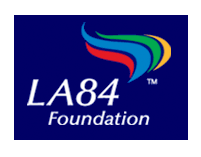 "Lights on Baseball" in the fall/winter."
Download the Fall 2014 LABGC Baseball League flyer (PDF)
Sports Leagues
Join our seasonal sports leagues including: basketball, soccer, and volleyball for both boys and girls.
IM Michael Phelps Swim Program
Members learn water safety and skills at our swimming pool in swimming lessons and recreational swim, sponsored by the Michael Phelps Foundation and Speedo.
Healthy Habits
The "Mind" component of Triple Play teaching good nutrition including nutrition workshops, Iron Chef cooking classes, and healthy eating.
---

Family Plus
Offers support services to families of members in order to help them succeed.
Weekly Food Bank
Thursdays 5:00-7:00pm
One-E-Apps
Multi benefit screening to determine eligibility for utility discounts, food stamps, free tax preparation, Medi-Cal, and other benefits.
Family Night & Family Baseball
---
Case Management
Guidance, tracking, educational workshops and crisis intervention.